The Daniel Defense 300 Blackout UpperM4 300 S Upper Receiver Group was designed for those demanding a high-performance, short-barrel rifle chambered in the versatile 300 Blackout cartridge. Built around a Cold Hammer Forged 10.3" Strength-to-Weight (S2W) profile barrel, the 300S URG delivers .30 caliber projectiles with greater muzzle energy than comparable 5.56mm platforms. The barrel is equipped with a DD improved Flash Suppressor to reduce flash signature, and a low-profile, pistol length gas system provides smooth, reliable cycling under harsh conditions and reduces perceived recoil. The DDM4 Rail 9.0 shields the barrel and gas block and affords ample room for securely mounting multiple accessories.
Thank you for reading this post, don't forget to subscribe!
Three removable DD Rail Panels made from Santoprene, which are heat resistant to 300° F, provide a secure, comfortable grip while protecting the support hand from heat, while a Daniel Defense Vertical Grip provides superb ergonomics and control. All Daniel Defense complete upper receiver groups come standard with a bolt carrier group and charging handle.
NFA on daniel defense upper 300 blackout DISCLAIMER
This firearm is a regulated item by the National Firearms Act (NFA). Please check with your local and state municipalities for any further regulatory requirements. It is the buyer's responsibility to make sure he/she complies with all NFA rules and applicable laws.
MATERIALS & CONSTRUCTION of Daniel Defense 300 Blackout Upper
UPPER RECEIVER: Mil-Spec with Indexing Marks and M4 Feed Ramps. CNC Machined of 7075-T6 Aluminum, Type III Hard-Coat Anodized
BARREL: Chrome Moly Vanadium Steel, Cold Hammer Forged, 1:8, 10.3″ S2W Profile, Salt Bath Nitride Finished, and HP/MPI Tested
RAIL PANELS: Daniel Defense Rail Panels made from Santoprene, Heat Resistant to 300° Fahrenheit
GAS SYSTEM: Pinned Low-Profile Gas Block CNC Machined from 4140 Hardened Steel with Mil-Spec Heavy Phosphate Coating, Pistol Length, Direct Impingement
HANDGUARD: Daniel Defense DDM4 Rail 9.0, CNC Machined from 6061-T6 Aluminum, Type III Hard-Coat Anodized
BOLT CARRIER GROUP: M16 Profile, Mil-Spec MP Tested, Chrome Lined, Properly Staked Gas Key
RECEIVER EXTENSION: Six-Position Mil-Spec 7075-T6 Aluminun
SIGHTS: Sold Separately
MUZZLE DEVICE: Daniel Defense Flash Suppressor, 17-4 PH Stainless Steel, Salt Bath Nitride Finished
WARRANTY STATEMENT
All Daniel Defense products carry a 100% satisfaction guarantee against defects in original materials and workmanship. If your Daniel Defense product shows evidence of such defects, Daniel Defense will make every accommodation to fix, repair, or replace your product. Daniel Defense does not warranty products or damage caused to our products by the correct or incorrect installation of other manufacturer's products. Be sure to retain your sales slip as proof of purchase date when making a claim.
Features
Mil-Spec Upper Receiver with Indexing Marks and M4 Feed Ramps. CNC Machined of 7075-T6 Aluminum, Type III Hard Coat Anodized
Chrome Moly Vanadium Steel Barrel, Cold Hammer Forged, 1:8 Twist, 10.3″ S2W Profile, Pistol Length Gas System, Chrome Lined, Mil-Spec Heavy Phosphate Coated, HP/MPI Tested
Pinned Low Profile Gas Block CNC Machined of 4140 Hardened Steel and Mil-Spec Heavy Phosphate Coating, Pistol Length, Direct Impingement
Daniel Defense Flash Suppressor, 17-4 PH Stainless Steel, Salt Bath Nitride Finished
M16 Profile, Mil-Spec MP Tested, Chrome Lined, Properly Staked Gas Key
Daniel Defense DDM4 Rail 9.0, CNC Machined from 6061-T6 Aluminum, Type III Hard-Coat Anodized
Daniel Defense Rail Panels Made from Santoprene, Heat Resistant to 300° F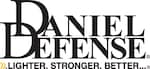 Made In United States of America
Specifications on 300 blackout daniel defense
Product Information
| | |
| --- | --- |
| Cartridge | 300 AAC Blackout (7.62x35mm) |
| Finish | Hardcoat Anodized |
| Material | Aluminum |
| Weight | 3.65 Pound |
| Barrel Length | 10.3 Inches |
| Twist | 1:8 Inches |
| Barrel Contour | Strength 2 Weight (S2W) |
| Sights | No |
| Barrel Finish | Anodized Black |
| Chrome Lined | Yes |
| Gas System Length | Pistol |
| M4 Feed Ramps | Yes |
| Upper Receiver Type | A4 Flat-Top |
| Barrel Material | Chrome Moly Steel |
| Handguard | Daniel Defense DDM4 Rail 9.0 |
| Bolt Carrier Assembly Included | Yes |
| Muzzle Device | Daniel Defense Flash Suppressor |
| Mil-Spec or Commercial | Mil-Spec |
| Country of Origin | United States of America |
| Compatible With | |
Delivery Information
| | |
| --- | --- |
| Shipping Weight | 5.100 Pounds |