If you're an avid shooter or hunter looking for a powerful and versatile ammunition option, then 50 Beowulf ammo might be just what you need. Developed in recent years, the 50 Beowulf cartridge has gained popularity for its impressive stopping power and compatibility with a variety of firearms. In this article, we'll explore the history, performance, applications, and more of 50 Beowulf ammo, helping you understand why it has become a favorite among enthusiasts.

Thank you for reading this post, don't forget to subscribe!

Whether you're a recreational shooter or a hunter, having the right ammunition can make a significant difference in your shooting experience. The 50 Beowulf ammo, also known as the .50 Beowulf, is a robust and potent cartridge designed specifically for the AR-15 platform. It offers substantial power and accuracy, making it ideal for various applications, including hunting, self-defense, and target shooting.
The 50 Beowulf cartridge was developed by Alexander Arms in the early 2000s. Inspired by the legendary Beowulf, a warrior of Scandinavian folklore, this cartridge aimed to provide unparalleled power and performance. It was specifically designed to fit the AR-15 platform, making it an attractive choice for those who already own an AR-15 rifle.
3. Advantages of Using 50 Beowulf Ammo
One of the primary advantages of using 50 Beowulf ammo is its immense stopping power. The cartridge fires a large and heavy bullet, typically around 325 to 400 grains, resulting in devastating terminal ballistics. This makes it highly effective for hunting large game or situations that require substantial penetration.
Additionally, the 50 Beowulf cartridge offers excellent accuracy and reliability. Its design ensures reliable feeding and extraction, reducing the likelihood of malfunctions. With proper shooting technique and a quality firearm, you can achieve impressive precision and consistency with 50 Beowulf ammo.
4. Popular Firearms Chambered in 50 Beowulf
Several firearms are chambered in 50 Beowulf, giving shooters a range of options to choose from. The AR-15 platform dominates the market, with various manufacturers offering rifles specifically designed for the 50 Beowulf cartridge. Some popular choices include the Alexander Arms .50 Beowulf, the CMMG MkW-15, and the Radical Firearms RF-50. These rifles are known for their durability, accuracy, and compatibility with the 50 Beowulf cartridge.
Product Overview
While taking advantage of state of the art testing equipment, this high performance ammunition by underwood is field tested using popular, real firearms that customers are most likely to own out in the real world with all the elements you would experience. If for some reason Underwood Ammunition fails to meet performance expectations, Underwood stands by their product 100% and will make sure the customer is satisfied with every purchase. This ammunition is new production, non-corrosive, in boxer primed, reloadable brass cases.
­Full Metal Jacket bullets are non-expanding, powerfully penetrative bullets that are designed with your woods defense needs in mind; whether fending off wild hogs or black bears, the FMJ-FN bullets are consistently effective in taking down any wild animals that you may encounter. In contrast to the round nose non-expanding bullets, the flat nose bullets are able to pierce through dense bodies of mass while maintaining their nose forward position; the nose forward position is optimal for maximum penetration. All of Underwood Ammo rounds utilize flash suppressed powder so that your vision will not be compromised if it becomes necessary to use your firearm in low light.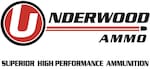 Made In United States of America
Specifications
Product Information
| | |
| --- | --- |
| Cartridge | 50 Beowulf |
| Grain Weight | 350 Grains |
| Quantity | 20 Round |
| Muzzle Velocity | 1775 Feet Per Second |
| Muzzle Energy | 2449 Foot Pounds |
| Bullet Style | Full Metal Jacket |
| Lead Free | No |
| Case Type | Brass |
| Primer | Boxer |
| Corrosive | No |
| Reloadable | Yes |
| Sectional Density | 0.2 |
| Velocity Rating | Supersonic |
| Country of Origin | United States of America |
Delivery Information
| | |
| --- | --- |
| Shipping Weight | 1.615 Pounds |
| DOT-Regulated | Yes |