Product overview on 358 bullets:
358 Bullets are bulk-packaged, factory seconds that didn't meet specifications. For the majority of the bullets being offered, this blemish is a slight discolouration in the jacket or the bullets were run during press set-up. Hurry, quantities are limited and they won't last long at these prices!
Thank you for reading this post, don't forget to subscribe!
Notes:
These .358 bullets may or may not have a cannelure present. The presence of a cannelure may vary between boxes.
The color of polymer tipped bullets may vary between boxes.
A generic image of a similar bullet is shown.
Blemished Bullet Reloading Tip: Since these bullets do have slight blemishes it is always better to check bullets for defects in diameter before loading
.35 Caliber Bullets at bulk ammo ma
358 Bullets (.357/.358) Reloading Bullets Reloading bullets rifle cartridges such as the .35 Remington, .35 Whelen, and .358 Winchester. Buy .35 Caliber (.357/.358) Bullets Reloading bullets on sale online at discount prices in our reloading supplies department. We carry an extensive selection of reloading bullets at discount prices, including Barnes reloading bullets, Berger reloading bullets, Combined Technology reloading bullets, Hornady reloading bullets, Nosler reloading bullets, Sierra reloading bullets, Speer reloading bullets, Swift reloading bullets, and Winchester reloading bullets.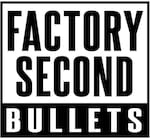 Specifications .358 remington core lokt bullets
Product Information
| | |
| --- | --- |
| Bullet Caliber | 35 Caliber |
| Diameter | 0.358 Inches |
| Grain Weight | 175 Grains |
| Quantity | 1000 Bullet |
| Bullet Style | Polymer Tip Flat Base |
| Lead Free | No |
| Cannelure | Yes |
| Bullet Coating | Non-Coated |
Delivery Information
| | |
| --- | --- |
| Shipping Weight | 2.570 Pounds |